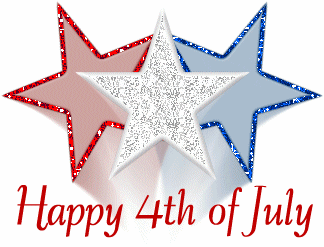 I had a few minutes to spare to whip up this card today for the fun challenge at:
I thought I'd stick with a patriotic theme today being that it is the 4th of July. SO I pulled out my Christmas/New Years set.. I mean what else would a stamper use? haha.. Seriously though the stampin up, It's a Celebration set that has Happy New Years sparklers is perfect. So I made a little fireworks display in the center square. The sentiment is from an older 1993 set and I only have 1 or 2 from it. I wish I had the whole thing. The vertical strips on the side are washi tape, that I stuck down and then matted it also. Did you notice the red,white, and blue star brads? I thought I'd tack those on because of the embossed star background.
Here is a picture of our festive table. We celebrated the 4th early because both of our kiddos could come home. Today it's just hubby myself and the puppers. WE were outside for a lovely time and will be grilling burgers later. Our daughter and Son-in-law might come over to have a small fireworks show.
Our son had to head back out of town.
I thought I share a picture of HP cooling off in his pool. My daughter cleaned it all out for us and him. Because early this summer a duck family decided it should be their personal pond. It was cute.. but it was MESSY.
Here is a picture of our yard today.. as you can see it's a hazy humid day.. but honestly I'm loving it.
I hope that you're all enjoying a lovely day with friends and family. Thank you so much for stopping by for a visit.
Keep Smiling and Keep Stamping.
I'd love to have you sign up and follow my blog.
I hope you will take a look around at my other cards, projects and pictures. Did you notice my new pinterest button on the left hand column of my blog?